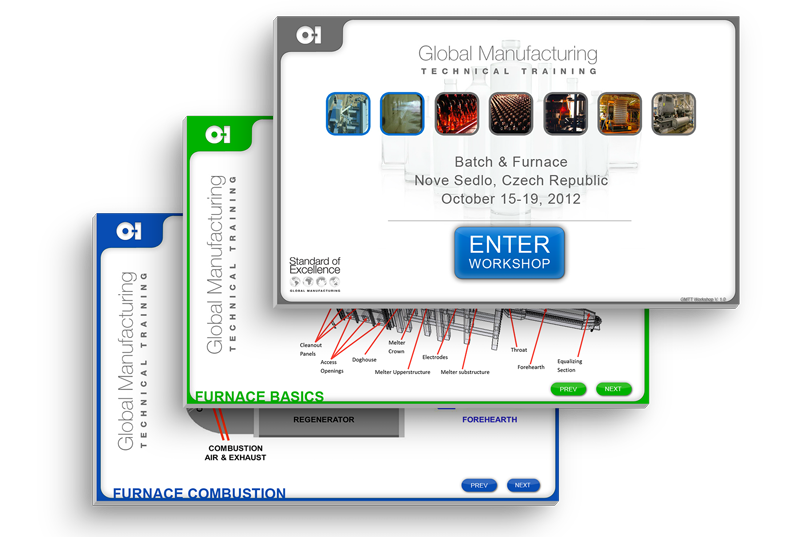 About
Owens-Illinois is a Fortune 500 Company that specializes in container glass products. Located in Perrysburg, Ohio it is one of the world's leading manufacturers of packaging products.
Problem
Corporate never had an official training program, every facility/factory around the world was conducting their own version of employee training. This meant every facility had different performance reports. Some had more employee accidents and equipment replacement/repair due to improper use.
Solution
To create a specialized team that will focus on developing training materials for all facilities/factories around the world. The training consisted of the glass making process, proper use of equipment, and safety procedures.
Responsibilities
Laying down the foundation of the training program (module, workshop, guides, and job aids) was a big responsibility as the UX/UI Designer. My focus was to make the program user friendly and balance aesthetics with functionality. Everything from the icons to the navigation, were seamlessly designed to translate the learning materials covered in the module to the job aids being used on the field. I wanted to keep the continuity in design in order to make it easier for the trainees to relate their learned material from the module to the job aids on field.
Results
After a successful launch in the Czech Republic, the results were clear. Not only did the employees feel more knowledgeable about their duties, but there was a decrease on reported accidents and a decrease of spend in replaced/repaired equipment within the first two months.